394 total views, 2 views today
"It came without ribbons; it came without tags. It came without packages, boxes, or bags." — The Grinch
Christmas 2020! Jolly will show up during a pandemic. Santa will have full traveling privileges along with his reindeers. Santa's in masks, I cannot wait to see that! Even though our lives feel different from the world-wide virus, the same holiday sentiments will prevail.
2020… Many may concur it has been an interesting year. Complete with adjustments, some of those adjustments suck. We need to do our best to bring normalcy into our Holliday tradition.
Frantic shoppers and the amped-up Christmas glitz seem too much for me. Shoppers at overdecorated malls, merry and overspent.
I can get stifled at Christmas, so much pressure. Back in the day, when I was a single mom of three children. I did all I could to bring magic plus tradition. I made pounds of English Toffee that is similar to Almond Roca. My grandmother taught me, and her grandmother taught her. Candy making remains my tradition.
I would give the candy to everyone, keeping the shopping for the kids. Delicious smells filled our home of vanilla, sugar, and butter. I am sure those smells will forever spark memories in me.
I learned that celebrating food is a gift. Giving what someone needs, or wants, or can wear is wonderful. Homemade food is always fabulous—the gift of reading…also priceless.
Suppose you have girlfriends going through relationship troubles, or friends that are dating, or friends in a long-term marriage that would love a vicarious look into being single in the modern dating world. Then I have a book for you! Sexy fun, laughter, and lessons in this love-filled page-turner. Or a guy who wants a sneak peek into what a woman thinks—keys to the Queendom.  http://amanforeverypurpose.com
About the book: I began writing "A Man for Every Purpose, My Naked Journey Searching for Love" as a way to keep a record and understand my own love journey. Candidly spilling out what was trapped inside of me; this process quickly became a creative outlet. Recalling the wild antics and phases, I went through in search of sustainable love, unknowingly in search of myself. I fell down, we all do; I choose to keep going, with a ferocious heart, not giving up on love or on myself…Life happens, and when we can learn from it, then life happens for us.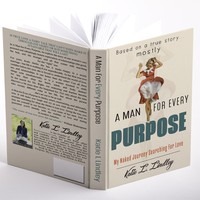 Stay tuned for the second book in the series: "A House for Every Purpose, My Journey from Pillow to Pillow," where adventures continue.
Happy Holidays, Merry Christmas, Best Winter Solstice!
From my heart to yours, Katie L Lindley